John Haslam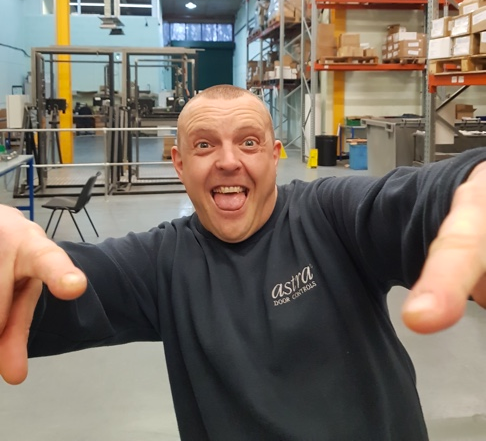 Nickname? And why?
LJ (short for Little John)
What is your guilty pleasure?
Weetabix with hot water
What was the craziest / most stupid thing you did as a child?
When I was six, I got peanuts stuck up both nostrils and I needed to go to the hospital to have them removed.
Have you ever broken the law? Explain?
Yes!!! I got caught stealing milk when I was 12
If you could turn any activity in to an Olympic sport what would it be?
Drinking the fastest pint
What is your biggest regret?
After quitting smoking for 12 months I started again
If you could play for any sports team who would it be and why?
Manchester United – I still think I can be the next George Best
What irrational fears do you have?
Clowns
About Work
How are you enjoying the exciting world of Door closers? 
Loving it large
Favourite door closer finish?
Satin Chrome (radius)
Who is your favourite colleague?
Myself
Who is the most irritating staff member?
Audrey, for nagging at me for being late even if it is only 1 minute
Best part of the job?
Working on the final assembly machine for the 3000 / 4000 series line and seeing the  finished product
Worst part of working for Astra Door Controls?
Packing
A Winning Team
Born out of the companies named Reilor Limited and Gibcloser Limited, Alister Reid and Philip Gallagher set up Astra Door Controls in 2005 with a vision to design and manufacture concealed door closers for the fire door market in the United Kingdom. In the beginning Alister Reid as Managing Director shaped the business to meet the demands of manufacturing and design leaving Philip (Technical ans Sales Director) to focus on developing the product range and certification requirements. As both directors are very "hands on" it soon became apparent that traditional overhead face fixed closers were not always wanted or desired. The requirement for a hidden or concealed self-closing device was an obvious missing piece of the modern fire door-set.
Committed to manufacturing in the United Kingdom, we are able to deliver modern design with quality products at a competitive price whilst fulfilling the requirements of the relevant standards".
Philip Gallagher, Managing Director.