4000 Series Overview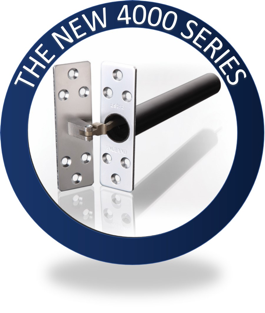 4000 Series
Manufactured in the UK the Astra 4000 Series incorporates three controls of different power sizes with adjustable speed.
This 4000 series of fully controlled concealed door closers have been designed specifically for fire doors that require a continuous, controlled action into the latch. With easy speed adjustment this ultra efficient, easy-to-install compact door control is ideal for both the refurbishment and new build projects.
Each of the products in the 4000 series have successfully gone through the rigorous EN1154 performance testing
The appropriate British standard for controlled closing devices is BS EN1154: 1997.  The EN1154 tests and grades the door closers on maximum opening angle, durability, power size, fire behaviour, safety and corrosion resistance.  You can read the EN1154 report for each of the 4000 series by the links below.
The 4001, 4002 and 4003 is proving to be the door closer of choice in many residential and commercial situations with its fast, simple installation and adjustment.
4000 Series Product Safety and Testing
PAS 24
It is a requirement of Secured By Design that products meet PAS24 standards to ensure security levels are maintained.
Astra 4000 series closers have been included in test in both Stredor and Streboard core 44mm and 54mm doors with a Dual Assesment for both Fire and Security.
Installation
Easy to fit with the appropriate, 9002- approved installation kit. Complete instructions supplied with products and kits.
Test Evidence
- Continuous testing 500,000 cycles
- Numerous successful fire tests, click here to view the 4000 series Field of Application
Product:
- Integrated door control
- Jamb-mounted frame plate hinge side
- Suitable for use on right and left swing doors
- Completely concealed when door is closed
Applications:
- Reduced ligature
- Hotel bedrooms
- Internal office doors
- Residential dwellings
- Cubicle doors
- Student accommodation
Accreditations:
- BS EN1634
- Fire doors for FD30 & FD60
- PAS 24
- BS EN1154
- CE Marked (EN power 3)
Functions
- Adjustable closing speed whilst installed
- Maintenance free

Related Products in the 4000 Series
Contact us today
If you have any questions regarding any of the parts we manufacture or their application, please feel to contact us either by phone or email.